Our Values
The TechnoPro Group's business activities are based on "Technology," "Talent," and "Customers." Through all of our activities, we will contribute to the realization of a society in which technology, talent, and customers can develop in a sustainable manner, transcending all frameworks such as organizations, industries, regions, and nations borders.
Corporate Philosophy Framework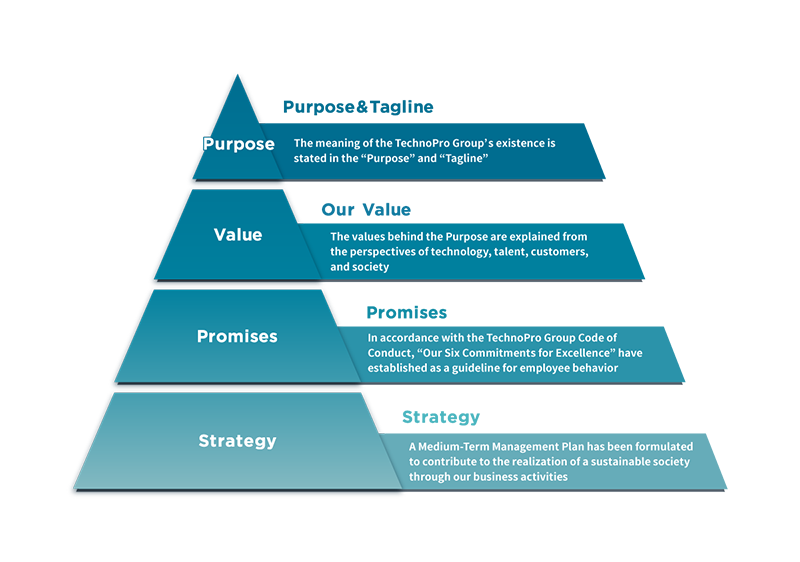 Our Purpose
Driving the Power of Technology and Talent

to Co-create Value Together with our Customers

for a Sustainable Society
Our Value
Technology is the driver that brings transformation to business, life, and society.
– The challenges and needs of customers and society are diversifying, as dynamic changes occur faster than ever –
We provide solutions to unlimited challenges our customers face by:


Delivering optimal service and solution through our talent, trained and nurtured well regardless of gender, age, and nationality.

Working squarely on new, evolving domains and honing our capabilities thoroughly.

Always meeting our customers' expectations as value-creation partners.

We continue to maximize the potential of engineers and researchers by:


Providing the conditions and programs to encourage learning and skill development.

Creating opportunities to not only hone their expertise but also to switch to or acquire new skills.

Supporting our talent to stay active through technology evolutions and environmental changes.

We contribute to building a sustainable society by:


Solving the challenges of our customers and society as we connect talent to technology, and bridge Japan to the world, across various industries and technology domains.

Promoting a diverse array of talent through continuous enhancement of capabilities.

Delivering results that have social impact through our business activities.
Our Six Commitments for Excellence
1.

Act with initiative and accountability


We work with the end goal in mind, selecting the best course of action.

2.

Strive to improve expertise and skills


We aspire to greatness in our profession, learning new skills and knowledge every day.

3.

Communicate effectively and act with sincerity


We treat everyone with respect, building relationships of understanding and trust.

4.

Be an ultimate professional and a trusted team player


We work with other entities, incorporating various ideas and insights for superb results.

5.

Act with insight and speed for the success of others


We monitor trends in markets and technology, anticipating needs and offering superior solutions.

6.

Be perfect in legal and ethical compliance


We inspire trust and confidence through perfect compliance with labor laws, information security statutes and practices, and ethics rules governing business in general and in our industry in particular.